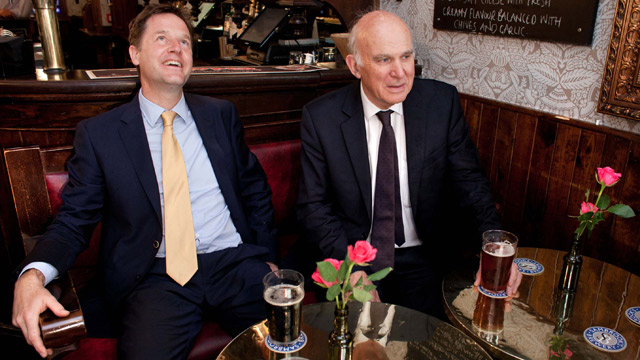 If the press launch is anything to go by, then tied publicans should be wary of the government's pub reforms plans.
For the first time since the botched coup against Nick Clegg, the Deputy Prime Minster and Liberal Democrat leader met in public with Vince Cable, the business secretary, in a Piccadilly pub to unveil the long-awaited proposals to give tenants a bigger say in negotiations with pubcos - the large, often heavily indebted, property-companies which own about 25,000 pubs across the country.
Such is the level of trust between the two men that the press were kept outside the Queen's Head, left in the rain, unable to hear a word. All that was released were a few sentences, with Vince Cable saying: 'Far too many landlords feel their income is squeezed by big pub companies, so today we are taking action to make sure they get a fairer deal.'
Even the venue chosen for the launch left a lot to be desired. The Queen's Head is a very distinguished pub in the heart of the West End, but it is independently owned and, therefore, will not be affected by these proposals.
As for the measures themselves, they are not as sweeping and radical as the campaigners would have hoped. The reforms will allow tenants, tied to companies like Punch Taverns and Enterprise Inns, to request a rent review if they have not had one for five years, and to see the information companies use to increase rents. (For background on the issue, see
here
)
Tenants would have access to an independent adjudicator who could impose sanctions if a new mandatory code is breached. Tenants would also be able to ask for an assessment to see whether they were better or worse off than free-of-tie tenants.
But there is no market rent option, no relaxation of the tie. Tenants will still face ground rent and be forced to buy supplies through their owners.
The reforms leave the pubcos pretty much as they were. Punch and Enterprise remain 'zombie' companies, as Greg Mulholland claimed in the House of Commons in 2013. And vocal campaign groups, who many might think would be on the side of tenant publicans, bemoan any intervention by the government.
For example, Brigid Simmonds, the chief executive of the British Beer and Pub Association, said:
'While we welcome greater certainty and clarity after such a long period of debate, we are disappointed that the government is seeking to introduce potentially costly legislation, with the disproportionate costs of a statutory adjudicator, rather than supporting the existing, and evolving, system of self-regulation.'
It would be a tough ask to find any tied publican who would defend the current system of self-regulation.
There will be opportunities as the legislation passes through parliament to amend these fundamentally timid plans and Greg Mulholland, who has been one of the most prominent champions for reform in the House of Commons, has indicated he intends to do what he can. Responding to messages of congratulations, from Lib Dem president Tim Farron, pleased that any proposals were being discussed, Mr Mulholland replied:
We can expect to see the free-of-tie option tabled. It will get the backing of Labour, the Lib Dems and many Tories, so could still force its way into legislation.
But the most significant obstacle facing even these reforms is the fracturing coalition.
While Clegg and David Cameron try and portray an image of back-slapping unity, in truth, this Queen's Speech sees a series of measures suggested by one side followed by another set from the other. It was noticeable that no Conservative figure has associated him or herself with the pubco measures. George Osborne is certainly nowhere to be seen and the pubs minister Brandon Lewis - who appears to have only a semi-detached relationship with his brief - is invisible. And, of course, there was no Andrew Griffiths MP, who represents Burton, the spiritual home of British brewing, and has spent years campaigning against any such reforms; surely he is not closer to the non-beer making pubcos than the pubs which actually sell the stuff?
While reforms have wide support amongst Tory backbenchers, there is no support from the Conservative benches in government; indeed, the delay to any proposals having been unveiled before now has not been the amount of responses to the consultation, as previously and preposterously claimed, but because of the extensive lobbying campaign by pubcos.
Lib Dem figures accept these measures are very much a 'first step' - and Labour have already pledged to go further if re-elected - but they face a battle to get even these passed through parliament.