Are we, as a nation, and is our government, against Female Genital Mutilation or not? Just days ago Nick Clegg described the practice as one of the 'most extreme manifestations of gender-based violence'. Yesterday, however, Afusat Saliu was arrested by our wretched border force and could be deported tonight, despite the very real threat that her four and two-year-old daughters could become victims of this barbaric abuse.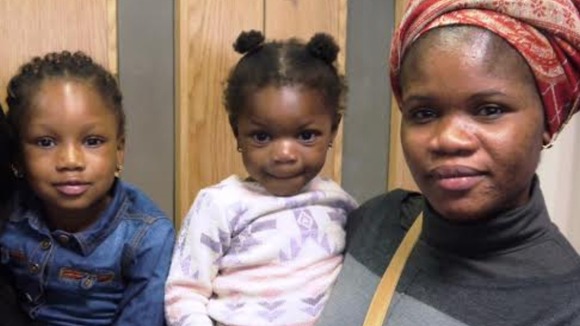 Ms Saliu, 31, is a Christian woman who fled Nigeria in 2011, while pregnant, after her stepmother threatened to subject her daughter, Bassy, 4, to FGM. Her second daughter, Rashidat, was born here in London. Both will accompany their mother – who was herself a victim of FGM – if she is deported later today (May 29). And there are very real fears that her two daughters will once again face the threat of FGM, she herself could be forced into a marriage or targeted by Islamic militants Boko Haram, especially since she converted to Christianity while living in Leeds.
The threat of FGM is real. Nigeria has the highest numbers of such cases of anywhere in the world (though not the highest as a percentage of population). It is
estimated
that 41 per cent of women have suffered 'genital cutting'.
Anj Handa, a friend of Ms Saliu, said:
'There is a risk of forced FGM on her two children if they are made to go back to Nigeria.
'Afusat is a victim of that herself. It is too late for her, but we have a four-year-old and a two-year-old and they are the "right age " for cutting from her family's point of view.'
But, reading Nick Clegg's comments at a press conference yesterday, it would seem the government is very much on her side.
This
is what he said:
'This is one of the most extreme manifestations of gender-based violence there is. it's already illegal here in the UK and in many countries around the world. Yet, despite this, millions of girls are still at risk of FGM. The first thing many of them know about this threat is when one day, terrified, they're physically held down and harmed. What follows is a lifetime of excruciating pain and trauma, serious health issues and, more often than not, dangerous complications in childbirth.'

He went on to say that while we should be sensitive towards other belief systems, they were not an excuse to allow such practices.
'There is a real limit to how much we should seek to understand cultural perspectives of others and the mutilation and cutting of girls with the horrific suffering that comes with it - there is no possible cultural excuse for that kind of practice. None at all.'
Foreign Secretary William Hague, who has been doing some brave and committed, though sadly little noticed, campaigning against rape as a weapon of war, has pushed a £35million DFID project to reduce FGM across the globe. His commitment is unquestionable.
Yet, we are now left in the absurd, disgraceful, situation that another arm of government - albeit one which frequently distinguishes itself through acts of callousness and incompetence - is prepared to deport a mother and her children, knowing that these two, innocent, girls, could well become the next victims of this dreadful activity.
Thus far, more than 120,000 people have signed
this petition
, calling for a review of the evidence so her case can be judged again. But time is running out. Her supporters fear Afusat Saliu and her family will be put on to a plane at 10pm this evening.
Pathetically, the only response from the Home Office is that it does not comment on individual cases; a phrase that now seeks to excuse authorities from responsibility for the outrages it allows.