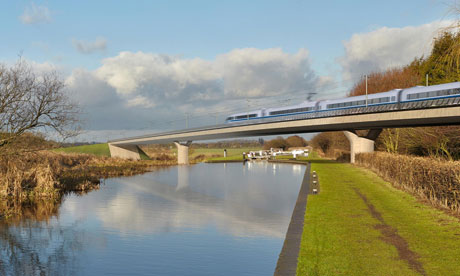 The sort of HS2 image backers don't want you to see these days
Assuming all goes to plan – and, yes, that is a very big assumption – the next twenty years in Britain is going to be marked by enormous infrastructure investment.
High Speed 2, Crossrail 2, trans-Pennine train links, new nuclear power plants and renewable projects, at least one new runway, massive house building projects including the creation of garden cities – such as the one re-announced today by George Osborne at Ebbsfleet – and bridges across the Thames are all in the pipeline and that's before schemes not yet conceived emerge.
But, as a senior rail official told me last week, 'it's not a question of either or' with these projectss; it can be argued all are needed.
Few, for example, would disagree that as North Sea oil stock dwindles, as Russia plays expansionist games in Crimea and Ukraine, Britain's fuel security is undermined further. Alternative means of power need to be found with nuclear power being an obvious source, while others will point at renewables and fracking as alternatives.
Similarly, once HS2 - subject of a major report tomorrow - is running, Euston station is set to be overrun with thousands of extra passengers a day leaving the Northern and Victoria lines unable to cope, hence the growing calls for Crossrail 2. In December last year, possible Labour Mayoral candidate Andrew Adonis warned that today's 'sardine conditions on central London's Tube will be nothing compared with the congestion of the 2020s; the capital will grind to a halt'. Improving the capital's infrastructure will be a major aspect of any campaign he runs.
After ditching the argument that HS2 was all about superfast bullet trains whizzing through an unrecognisable England, those behind the plan – inspired by the appointment of Sir David Higgins as boss – have, instead, sought to emphasize how the service will be reduce congestion south of Birmingham and be a catalyst to trans-Pennine rail links in the north.
Sir David Higgins
Materially there is nothing in HS2 which will cut journey times between Liverpool and Leeds, Manchester and Hull. But planners are adamant that the connection itself, the stage two link from Manchester and Liverpool to Birmingham and the South, will inspire northern cities to press for their own infrastructure. While many local northern authorities support HS2, there is frustration within the HS2 team that in the past these bodies have acted with too much isolation, failing to capitalise sufficiently on their geographical proximity. This, it is believed, is partly to blame for infrastructure spending per head being so much higher in the south-east than in the north.
And it is a major incentive as to why the HS2 chairman is so keen to press with the northern section of the line as fast as he is able. There is no chance, as some would like, of the line being constructed from north to south – phase two of HS2 is at least three years behind phase one in parliamentary terms alone – but the second phase could still be brought forward.
Planners also want to cut the current price tag of £50billion but the Higgins report published tomorrow will not offer any headline cut simply for easy headlines. The contingency will remain as large as it is at the moment. They know that the only way for any savings to be delivered is for the scheme to get political support from all sides in government - regardless of who is in power as the process will cover several administrations - and from local authorities across the country.
With such commitment, they hope for momentum, which will stimulate northern investment. For much of the last decade Network Rail funds have been largely diverted south to projects such as Crossrail 1. During the construction phase of HS2, fresh Network Rail funds could be invested on these northern projects, though they could still face competition from the likes of Crossrail 2, if it gets the go-ahead.
Tomorrow, Higgins will try to focus and reinforce the HS2 vision and urge politicians, and especially a twitchy Labour Party - currently the most likely to withdraw their support - to stay the course.
HS2 planners seem to have finally honed their vision but they know success, and savings, will only come from political certainty. With so many huge infrastructure projects at the starting gates - billions of pounds waiting to be committed, spent, invested, wasted, lost or delivered - their backers will be watching closely, trying to gauge the cost of political will.