A handful of case studies:
Robert Jenrick
Deftly puncturing the unrealistically high hopes of UKIP, Robert Jenrick was the most recent Conservative MP to be elected, at the Newark by-election on June 5th. He now has a majority of 7,403 but, despite this apparent endorsement, he only gained 45 per cent support from a turnout of just under 53 per cent, unusually high for a by-election; he was backed by a little over 24 per cent of those eligible to vote. Hardly a ringing endorsement.
At the last General Election, the constituency with the highest turnout was Renfrewshire East, where Jim Murphy was returned for the fourth occasion. More than 77 per cent of the electorate turned out and the shadow Secretary of State for international development got more than 50 per cent of votes cast. Overall though, he still hadn't received the backing of more than 40 per cent of the total of those allowed to cast a vote.
And in Witney, Prime Minister David Cameron may have got 58.8 per cent of the support of those who voted, but still only had the endorsement of just over 43 per cent of the all the constituency's voters.
No local councillor has anything like the support of an MP. At the local elections in 2014, national turnout was about 36 per cent and could be horribly low in some extreme cases; a pitiful 13.86 of the electorate bothered to vote in the Liverpool Central Ward.
Turnout for elections for the government's recent gimmick of Police and Crime Commissioners was pathetic. National 36 million people could express their opinion; in November 2012, just 15.1 per cent of people took time to do so.
All this leads us to the thorny issue of strikes. According to the
Morning Star
'millions' of people could strike on July 10 when five unions, the members of the National Union of Teachers, Unison, GMB, the PCS and Unite are all playing to take to the streets and 'challenge Con-Dem pay cuts'. It may not, ultimately, be millions who take to the streets, but there will be a sizable protest against the coalition government's pay restraint which means the vast majority of public sector workers are going to see their pay rises pegged to a meagre one per cent a year until 2018 at least.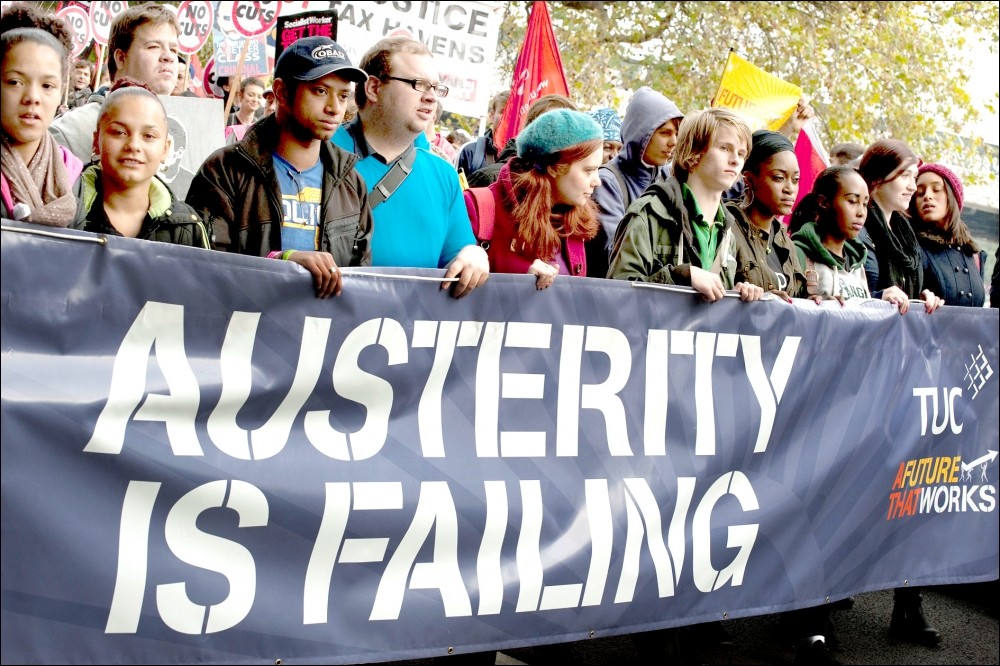 Anti-austerity campaigners on October 20, 2012. Photo: Paul Mattsson
Disruption will be widespread. Teachers, NHS staff, workers in job centres and benefits officers, staff in tax and passport offices, passport controls, immigration, museums and galleries, crown courts, country courts, magistrates and civilian staff in police stations; all will be taking to the streets after successful strike ballots by their unions. Yet in none of these ballots was there a turnout of more than 50 per cent. It is, therefore, very easy to see the simple political attraction of curbing such a demonstration by introducing a turnout threshold, ruling invalid any ballot that failed to reach the required level.
Today, at the final Prime Minister's Questions before MPs go off on their Summer Recess, David Cameron said this:
'I don't think these strikes are right... I think people should turn up for work. I think the time has come for looking at setting thresholds in strike ballots... The NUT strike ballot took place in 2012, based on a 27 per cent turnout.
'How can it possibly be right for our children's education to be disrupted by trade unions acting in that way? It is time to legislate and it will be in the Conservative manifesto.'
It is fairly clear what his intention is then and it is probably a measure which will get widespread support from those who think strikes are an unpleasant disruption which have no place in modern society. But glossing over this and the rather fundamental role protest has in a free society, introducing a turnout threshold of, say, 50 per cent - as suggested by Mayor of London Boris Johnson (himself elected with 51.53% of the vote on a 38.1 per cent turnout) - threatens to undermine further the authority of any elected figure and could well backfire.
Voting for a politician is so much easier than taking part in a strike ballot. Polling stations abound and it is not even necessary to carry your polling card when you do pitch up to mark your ballot paper. The organised can rely on postal ballots. Yet, despite, the lack of inconvenience, so many, disillusioned, disaffected, utterly fed up with all of the above, simply don't bother. As said above, the 53 per cent turnout in the Newark by-election was unusually high, buoyed by eager, naive, competition from UKIP. The turnout in Manchester Central in 2012 was just 18.2 per cent and they normally hover around in the thirties -
this table
shows the turnouts of every by-election since 1997.
Strike ballots, on the other hand, are only held through the postal system, a tactic, introduced under Margaret Thatcher, itself designed to reduce turnout and undermine credibility. It is not possible to turn up to your place of work, put it a cross in a box and put it in a ballot box. No one is suggesting making it easier for strike ballots to be held.
Already, the reputation of politicians could hardly be lower but, by forcing through such a change, they will leave themselves open to the very damaging charge that they deserve a more flexible, and frequently lower, level of democratic support than everyone else; one rule for Robert Jenrick, Boris Johnson, all those councillors and PCCs and another for teachers, nurses and basic state workers struggling on some of the lowest wages in the country.